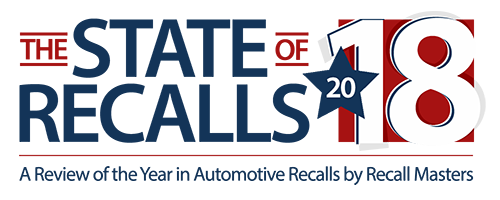 Report Reveals that Recalls Aren't Going Away
Anytime Soon
NHTSA-mandated and OEM Voluntary recalls increased in 2018 from 2017 data, adding to the enormity of the recall crisis
In its third "State of Recalls" report, Recall Masters, the automotive industry's leading provider of recall solutions, revealed that more than 32.7 million affected vehicles were accounted for in recalls mandated by the National Highway Traffic Safety Administration (NHTSA) in calendar year 2018. Another 159 "OEM voluntary" recall campaigns affected a minimum of 14.5 million vehicles. While many vehicles have more than one recall present, the 2018 total of 47.2 million affected vehicle recalls translates to more than one in four vehicles on US roads with at least one open recall. With an estimated 276.1 million registered vehicles in the country, the threat to drivers and passengers is greater than ever.