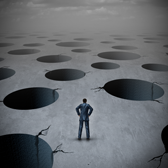 The Pitfalls of Discounting Service
A Blog Post from Christopher Miller
When it comes to sales and service transactions in the retail automotive industry, a main strategy in acquiring new customers or repeat business has always been to offer discounts. Most auto dealer advertisements on television, radio, online, or delivered via any other medium, are based around price discounts. "Save $12,000 off MSRP on this truck," or "Come in and get an oil change for just $19.99," are common messages dealerships use to bring in new customers and reignite relationships with those who may have disconnected from the dealership. But are discounted promotions a sound long-term customer...