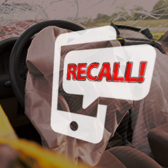 Making the Case for Texting Consumer Recall Notices
A Blog Post from Christopher Miller
Technology has made a huge impact upon our modern society. In the past, standard postal mail and phone calls were sufficient means of communication. However, as people are increasingly inundated with junk mail and persistent telemarketer calls, their willingness to pay attention to these forms of communication has diminished. It has nothing to do with whether they want to receive important communication, it's just more challenging to weed out the vital information from solicitations...