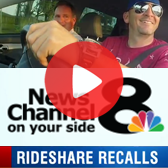 Recalled Uber, Lyft Cars Could Pose Safety Risk [Video]
RM featured on News Channel 8 Tampa

(WFLA) – Next time you fire up an app to order a ride from Uber or Lyft, here are some good questions to ask yourself. Is that car you're about to step into on a safety recall list? If so, has the work been done?

Sobering statistics show only about a quarter of car drivers needing recall work actually get it done. That means your odds of hoping into an Uber or Lyft needing repairs....